Featured Event
There are currently no featured events.
Learn About Facade Improvement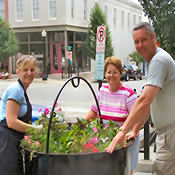 Monticello Main Street and the City of Monticello have teamed up for the last four years to offer Facade Improvement Matching Grants to Monticello businesses. To date, many businesses have received funds--generating over $901,000 of improvements to building facades in Monticello.
Monticello Main Street administers the program and offers design assistance, while the City of Monticello provides the funding. The purpose of the grants is to stimulate efforts to improve the street appearance of Monticello's commercial and business facades. Grants are available for all businesses, and are NOT limited to those in the downtown area.

There is a $3,000 maximum per grant which must be matched by the applicants. The total grant amount for each fiscal year is limited, so the grants will be awarded on a first-come first-serve basis and will be limited to one application per business per fiscal year. Following is the the formal description and application for the Facade Improvement Matching Grant Program and a link to the actual application form which you can print out.
Become a Partner
Please join Monticello Main Street in our efforts to stimulate our local economy and keep the downtown vibrant.Your support allows us to host events and bring resources to our downtown marketplace, making it a destination for residents and visitors alike.
To become a Sponsor or Partner of Monticello Main Street download the forms below: