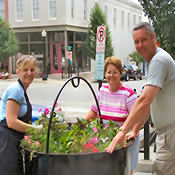 Monticello Main Street and the City of Monticello have teamed up for the past 19 years to offer Facade Improvement Matching Grants to Monticello businesses. To date there have been over $1.1 million of improvement to building facades due to this program.
Monticello Main Street administers the program and offers design assistance, while the City of Monticello provides the funding. The purpose of the grants is to stimulate efforts to improve the street appearance of Monticello's commercial and business facades located in the historic downtown.

There is a $3,000 maximum per grant which must be matched by the applicants. The total grant amount for each fiscal year is limited, so the grants will be awarded on a first-come first-served basis and will be limited to one application per business per fiscal year. Following is the the formal description and application for the Facade Improvement Matching Grant Program and a link to the actual application form which you can print out.
Purpose
The purpose of the Façade Improvement Grant program is to assist building owners with improvements necessary to maintain the historical and structural integrity of the facades of the buildings around the Courthouse Square and contributing streets. This particular matching grant program is funded by the City with oversight and administration given by Monticello Main Street. The grant is based upon a 50% match of paid expenses, up to $3000.
Grants will be awarded on a first-come, first-served basis and will be limited to one application per business per fiscal year. Each application will be reviewed by a committee consisting of the Chairman of the Community Development Committee of the City Council, the Main Street Program Manager, and a representative from the Design Committee of Monticello Main Street, Inc. An architect can be made available for review and when applicable an architectural review may be required.